Making Sushi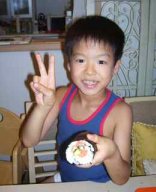 Sushi is healthy eating.
Sushi rolls can be deluxe or quite simple and easy to prepare. Angela and Tinashe had a sushi party with friends, Yoshimi, Kei & Yuto and would like to share. It did get a little messy at times but making sushi was heaps of fun. We hope you enjoy!
What is sushi?
Basically, sushi is a Japanese tradition of mixing cooked rice with other ingredients. There are many types and kinds. We`re going to show you the easy kind that both kids and adults love and can enjoy preparing and eating.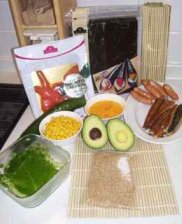 How to make sushi rolls
Sushi Ingredients:
Cooked plain rice or sushi rice
Nori seaweed
Vegetables of your choice (usually: cucumbers, avocado, pickles, corn, lettuce
Fish/Meat of your Choice (usually: raw or cooked fish, canned tuna, smoked salmon, thinly sliced sausage)
Omlette - Japanese sytle is great!
Extras: sesame seeds, mayonnaise
When cutting up the ingredients, keep in mind the length of the nori seaweed. We usually cut everything in long strips so it lays across the seaweed. See below for details.
Optional Equipment:
Bamboo sushi mat
You can see below how the sushi mat is used to make a tightly wrapped sushi roll which is easier to cut and more attractive. If you don`t have a sushi mat, a tea towel will do. Otherwise, just roll as best you can - it`s still delicious!
Homemade Sushi - A Sushi party for all ages!
My friend, Yoshimi, and I challenged ourselves to have a sushi party with a 2, 5, and 8 year old. It was a success! A bit hectic at times but everyone got into it. See the video below!
Easy Sushi Recipe
1. Prepare your desired ingredients. Remember to cut them into long strips.
2. Arrange all your ingredients on the table for a "make your own sushi" style dinner. It`s a fun and interactive way to serve dinner. Everyone gets to create their own and try mixing different flavors.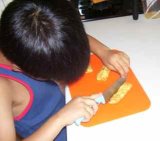 In the photo on the left, Kei is cutting a Japanese style omelette into strips. Japanese style omelttes are great for sushi as they are dense. If you want to use your own style omelette, it`ll work - just make a big one and cut it into strips.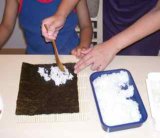 3. Lay a sushi nori sheet on a plate or a bamboo mat.
4. Add a small amount of rice at one end in a thin layer. Don`t go overboard. When you wrapped it, it all gets rolled together and can get quite thick.
5. Add thin strips of your desired ingredients onto the rice. Be sure not to add to many ingredients! One strip of each is enough. Anything goes but stay way from watery vegetables like tomatoes as they will make the nori soggy.

6. Roll the sushi as seen in the video above. Note: a tightly wrapped sushi roll makes it easier to cut and less likely to fall apart. It also looks more presentable.
"If you don`t have a bamboo mat, use a tea towel." Yoshimi advised. At home, sometimes I`m a bit causal and make sushi rolls and just wrapped them by hand. Tinashe doesn`t seem to mind!
After rolling, cut into 3cm/1 inch pieces.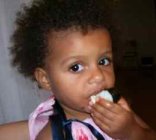 Making sushi is fun, easy healthy eating. You can`t have a better party & promote healthy eating for kids at the same time.
Enjoy!
Other Japanese Food Recipes to Try:
Vegetarian Sushi Rice

Return from Making Sushi to Healthy Eating for Kids

Return from Making Sushi to Japanese Healthy Eating